2006 Dodge Charger NHRA Top Fuel Funny Car
This is the fastest Funny Car body design on earth, with "Fast" Jack Beckman setting the official NHRA speed record at 333.66 mph and Mike Ashley running the fastest unofficial speed at 334.32 mph in the quarter mile. This was a complete body design working from the NHRA rule book, with the NHRA and partner race teams to improve upon the extremely successful 2002 Dodge Stratus Funny Car. The new design was successful in meeting the goals of improving efficiency, total available downforce, downforce tunability, and production vehicle character. This vehicle was designed and developed entirely with digital tools, utilizing only CATIA V5 computer aided design software and Exa PowerFLOW computational fluid dynamics (CFD) software to develop the surface prior to tooling the body. Verification testing and final aerodynamic mapping was completed on the first production body, with very good correlation to the CFD simulations.
Photo courtesy of Marty Reger.


1969 Plymouth Barracuda SCTA Land Speed Racer AKA Blowfish
This car, built by customizing extraordinaire Troy Trepanier's Rad Rides by Troy, and owned by cool car-guy George Poteet, is one bad hot rod. Not even breaking a sweat, the Mopar 4 cylinder midget engined 'show car' exceeded the Southern California Timing Association Bonneville Salt Flats speed record of 230 mph on it's shakedown run. It then took home the class record after clocking two separate one-mile averages of 255.7 mph in August of 2006, proving that Troy and the boys brought more than a trailer queen to the flats. Don't think it's not a typical Rad Rides beauty, as it also won Hot Rod Magazine's Hot Rod of the Year award. Aerospeed Solutions founder, Terry DeKoninck (4th from left), worked with Rad Rides to develop the low drag, high downforce package, lowering the coefficient of drag below .200 while developing over 200 counts of stability and traction enhancing downforce. Terry also assisted the team with performance simulations and data analysis, and supports them yearly at Bonneville as team engineer.
The car has set several class records since 2006, and has run over 300 mph at least 10 times. In 2011, the team missed the worlds fastest 'doorslammer' record by a mere 1 mph while setting a class record of 308 mph, after qualifying at 315mph and running a top speed of 320 mph.
Photo courtesy of Rad Rides by Troy
2008 Dodge Viper SRT10
When Dodge wanted the 600hp Viper to exceed 200 mph and already had the 2008 bodywork in production, Terry DeKoninck, working with the synthesis and releasing engineers at SRT, developed an inexpensive production underbody aerodynamic package. This package not only increased the top speed of both the coupe and roadster by 5 mph to over 202 mph, but rebalanced the downforce distribution to improve the high speed handling. Track testing at Transportation Research Center's 7 mile high speed oval track in central Ohio verified the calculated top speed of both the coupe and roadster, with the roadster running 197 mph with the top down.
Photo courtesy of Chrysler Media




2003 Dodge Stratus NHRA Pro Stock Car
This car was a clean sheet entire body design that really pushed the envelope in the NHRA Pro Stock class. This race car caused quite a stir with the competition at the time and has since gone on to appear in over 30 NHRA Pro Stock final rounds.
Photo courtesy of Marty Reger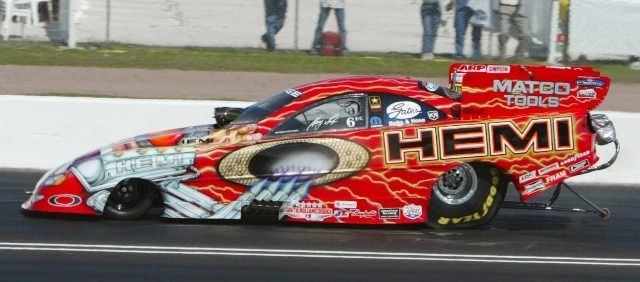 2002 Dodge Stratus NHRA Funny Car
This drag race body bumped up the Funny Car speed record 4 times over the course of 13 months in 2003-2004, culminating in being the first Funny Car to reach 330mph. In 2005, it propelled Gary Scelzi to his first NHRA Funny Car Championship, unseating the John Force Racing team who had held the crown for over a dozen seasons. This was a clean sheet design completed in CATIA V5 and developed using both 3/8 scale model testing and CFD simulations.
Photo courtesy of Marty Reger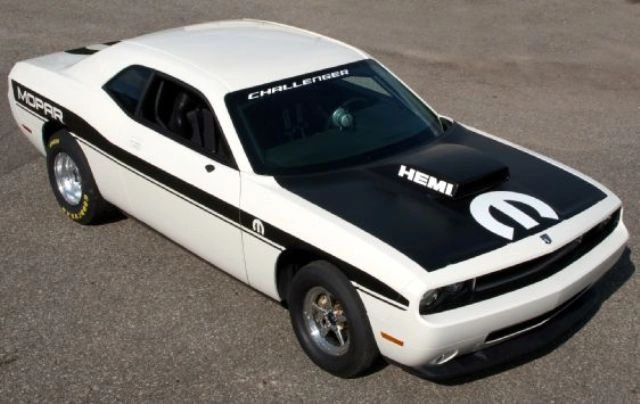 2008/9 Mopar Dodge Challenger Drag Pak

This is a drag race version of the production Challenger that was highly modified for NHRA Stock and Super Stock competition. Terry DeKoninck developed the balanced aerodynamic package and designed the functional carbon fiber lift-off hood and scoop that feeds a choice of 3 engines: 5.9 Magnum, 5.7 Hemi or 6.1 Hemi. All three engine packages are capable of low 10-second or better 1/4 mile performance.
Photo courtesy of Chrysler LLC


2007 Dodge Charger Top Alcohol NHRA/IHRA Funny Car
The alcohol version of the record setting Charger Fuel Funny Car has been very successful. Bobby Martin, driving for Frank Parker's team, Parkertech Racing Services, won the 2008 NHRA Division 3 Championship and finished 8th in NHRA National points. The Top Alcohol body was designed by Terry DeKoninck and utilized the original master model used for the Fuel version with several modifications for alcohol use, saving over $80k in tooling costs. Frank and his team worked with Terry to tune the final version in the Chrysler Aero & Acoustic Wind Tunnel.
Photo courtesy of Frank Parker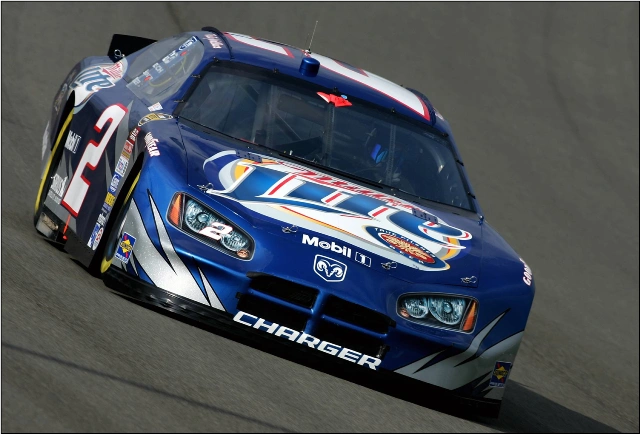 2005 Dodge Charger NASCAR Cup Series Stock Car
This body design won 11 poles in its debut season. This design was a true collaboration between Dodge Motorsports and the Dodge supported NASCAR teams of Petty Enterprises, Evernham Motorsports, Chip Ganassi Racing, and Penske Racing South, with Terry DeKoninck leading and managing the aerodynamic development. 
Photo courtesy of Dodge Motorsports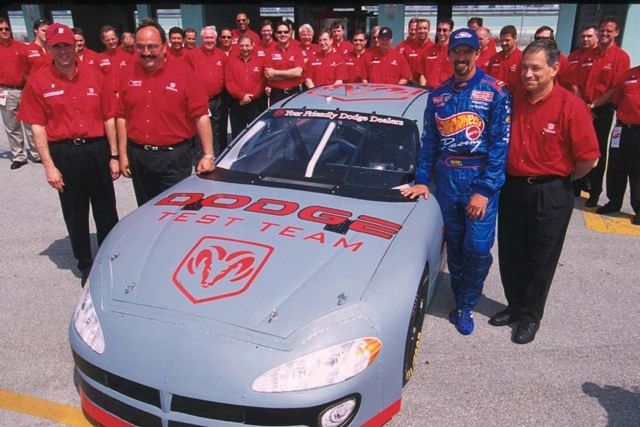 2001 Dodge Intrepid NASCAR Winston Cup Car
After a 500 day countdown to Dodge's return to NASCAR in the 2001 Daytona 500, the hard work of dozens of people paid off with the new Dodge Intrepids taking the top three spots in qualifying. Terry DeKoninck provided test support to the external aero group and led the thermal development, including designing and developing the 'mail slot' upper cooling inlet (not shown), Intrepid specific brake ducts, and component and chassis heat shielding to protect critical vehicle components and protect the driver from the intense heat from the exhaust system.
Photo courtesy of Dodge Motorsports





2005 Dodge Ram Pickup SCTA Land Speed Racer
This truck, owned by Wayne Jesel of Jesel Valvetrain fame, and equipped with an SRT10 Ram body kit, is by far the World's Fastest Pickup. It currently holds 4 different SCTA records, the fastest being the C/BMP record of 248.694 mph set with a turbocharged 357ci Dodge NASCAR Cup engine.
Photo courtesy of Wayne Jesel


 

Mallicoat Brothers Plymouth Barracuda Nostalgia Gasser
After just one shift in the Chrysler Aero & Acoustic Wind Tunnel, the aero drag was reduced over 60 counts and the lift reduced over 120 counts. The car left directly for a race in Boise, ID where the car ran it's fastest speed ever and claimed the track speed record at over 204 mph.
Photo courtesy of Gary Mallicoat.


 

2001 Dodge Dakota "Narrowed" NHRA Pro Stock Truck
When Dodge's mid-size pickup was uncompetitive against the competition's mini pickups, Terry DeKoninck worked with Jerry Haas and John DeFlorian of Jerry Haas Race Cars to improve the shape and optimize the aerodynamic efficiency while reducing the frontal area and maintaining the stock appearance of the vehicle. Validation and track testing showed they had reached their goal, but the NHRA cancelled the Pro Stock Truck class soon after it's debut.
Photo courtesy of Jerry Haas Race Cars


2005 Dodge Stratus IHRA Pro Mod
2004 IHRA World Pro Mod Champion Mike Janis wanted to trade in his Championship Corvette for a Stratus and contacted Terry DeKoninck to help. Starting with the 2003 Stratus Pro Stock body, Terry worked with Skinny Kid Race Cars and Jan-Cen Racing to modify the Stratus for Pro Mod use.






2003 Dodge SRT4 Pro FWD Dodge Neon

This car was one of the quickest and fastest front wheel drive cars in the world. During his NHRA Pro Front Wheel Drive days, Shawn built the first FWD cars into the 10's, 9's and 8's in the quarter mile and was a major innovator in the class.
Photo courtesy NuFormz Engineering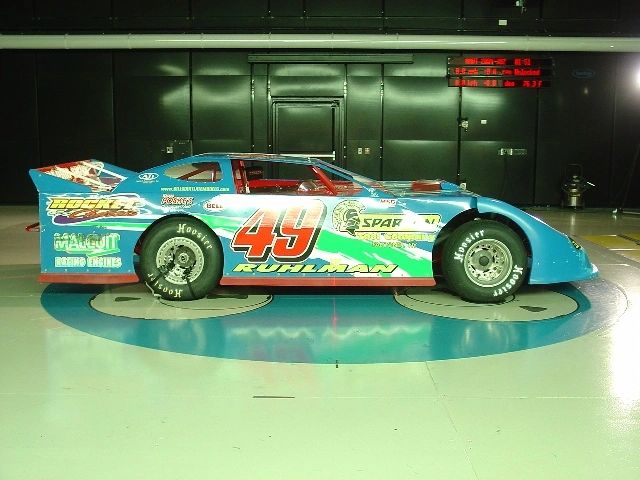 2004 Brian Ruhlman Racing Dirt Late Model
Brian won several championships with this car, including the 2002, 2003, & 2004 Eldora Speedway Late Model Championships. For those that don't think downforce makes a difference on a relatively low speed dirt track car, this car made more downforce than a top tier NASCAR Cup car.
Photo courtesy of Brian Ruhlman